Bermagui -It's a truly stunning location with a host of unique attractions and beautiful quite beaches as far as the eye can see. A mecca fishing spot and places to explore.
High winds and heavy rain have dogged us all the way but I am forever grateful for Stephens efforts in helping me install, battle the elements and encourage me to stay focused and patience.
We have now installed and have two great positions, it is time to explore, relax and enjoy as the weather is clearing and we have a few days to fit in sight seeing.
Genessee – overlooking the ocean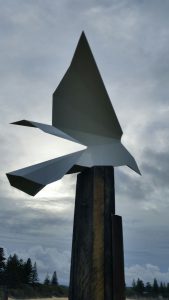 This powerful bird awakens visionary power. The Falcon carries with it a message of transition and change and with swiftness of flight and clarity of vision, giving focus to seize the opportunity.
Birds of a Feather – up on the hill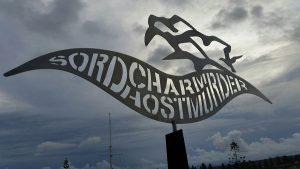 This piece is a play on Group Nouns being a flock of birds of different species eg: a Murder of Crows or a Sord of Mallards. Giving it a kinetic element adds to the visual aesthetics of a flock of birds taking flight from their nesting place in the cliffs edge and migrating, soaring through the sky looking for a new nesting place. Birds of A Feather flocking together represents a strength in numbers and survival.